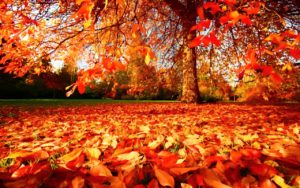 It's always been said that Spring is the best time to put a home on the market to sell. But, Fall might just be a perfect time and often homes can sell faster at this time of year.
Buyers are more serious in the Fall. During the Spring months, there are many homes on the market giving buyers more time to look at them in great detail and be more particular. Once September arrives, there aren't as many homes listed, the competition is less, and buyers are more rushed to buy, close and move in before the holidays and even Winter weather becomes an issue.
Curb appeal is still so important. Be sure to rake dead leaves and debris in your yard. If there is overgrown vegetation blocking windows, remove it and cut bushes and tree limbs. Put bright mums in pots at the front door and plant in gardens where it looks empty from pulling the dead Summer flowers. Leaves in gutters should be removed often.
The days are shorter, the sun sets lower and earlier in the horizon so be sure to turn the lights all over the home before a showing. Pull up the blinds, open the shutters, push back the drapes on every window.  Make sure each room is bright! Closet lights, appliance lights – anything to make the home shine! Many buyers want a showing after work so it will most likely be dark outside.
Be sure to have the furnace, boiler and even the fireplace checked.  Nothing would be worse than a cold Fall day and buyers come in only to discover that there are heating problems. Additionally, having a roaring fire in the fireplace might be just the ambiance needed for buyers to "see" themselves in the home.
Price the home to sell in the current market. A skilled Realtor will help set the price using the comps in the neighborhood coupled with the time of year – which does not necessarily mean the home should be priced lower, but priced right. The home might sit on the market longer as we head into the Holiday & Winter Season making it even harder to sell if it's priced too high.
The Bottom Line:  There will be fewer showings when putting a home on the market to sell in the Fall. The good news is that the buyers that are looking are more serious and motivated. Most importantly, find a Realtor that has a great track record of selling homes, no matter the season. Do the homework, ask neighbors, friends and search online to find the most experienced Realtor.