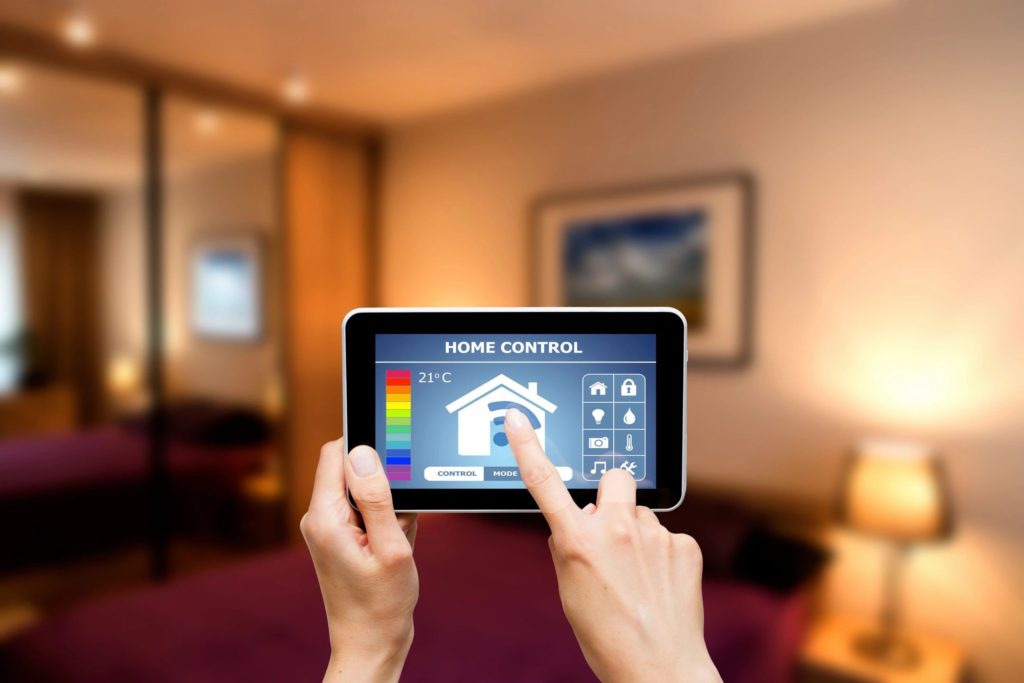 Over the past few years, smart technology has become more accessible and affordable. Not only can smart upgrades make your home more convenient and efficient, but they'll also make it much more attractive to potential buyers in the future. In this healthy seller's market, smart renovations will improve the value of the property of your home. Enhancements like your thermostat, lighting, keypad door locks, fire detectors, and security camera systems.
Smart Thermostat: The advantage is its ability to learn a household's patterns and adjust heating and cooling according to when a home is occupied or is about to be occupied. This reduces the use of heating and cooling systems when nobody is home for significant periods of time. During the Summer, you can set your thermostat to a temp while you are away so you do not waste energy. You are able to program the thermostat to come on a few minutes before you get home. Many are able to be adjusted by your smartphone while on your way home. A thermostat might seem to be a basic feature of your home, but it can have a big impact on your energy bills. Almost half of the monthly energy costs are controlled by your thermostat.
Smart Lighting: To really impress potential homeowners, a good Realtor will showcase the smart lighting by demonstrating it throughout your home. Smart lighting gives flexibility because it can be controlled by timers, as well as by setting up schedules and monitoring bulb statuses remotely. Smart lighting eliminates the switch on the wall. The network does all the work for you, automatically, though you can still program the lights to respond as you wish. They can feature sensors with the ability to identify people and when they need light, as well as how much they may need. Smart lighting will save money on utility bills. They're very energy efficient; allows for calibration of when each light should be on. When you travel, you won't have to physically alter the settings of each smart light or check to see if it is off before you leave. Everything can be done remotely, from afar.
Smart Keypad Door Locks: Install a smart lock to keep your house secure.  It's as easy as using an app that you will program new access codes into the lock, even set schedules for when those codes can be used. You will be notified when it's used, which gives you the ability to keep an eye on who is in your house and when.
Smart Fire Detectors: A smart fire detector is the one essential every home should have. Traditional alarms depend on you being around to hear them, a smart smoke alarm will alert you when something is wrong, no matter where you are. A smart smoke detector can warn you of a fire in its early stages, allowing you and your family enough time to get to safety. If there are any potential problems with smoke (or CO2) these can quickly alert you, no matter where you are in or out of the house, and even tell you what room it's sensing trouble in.
Smart Security Camera Systems: The latest smart home security systems pair with your smartphone so you can view cameras, lock doors, arm or disarm security points, and receive instant notifications on alarm triggers wherever you are. Home security systems often lower your home insurance cost since they can reduce the likelihood of home invasion or theft. 
The Bottom Line: Be in control. Smart technology doesn't just stop at security. Home automation functions enable you to control various aspects of your home, too—such as adjusting your thermostat and turning on or off the lights, coffee pot, or other appliances. If you ever forget to switch your bedroom light off in the morning before heading to work, for example, you can correct your mistake, from anywhere. All you need is a smartphone, iPad, or desktop computer. Upgrading to make your home smarter by adding smart features is among the five best (and easiest) ways to increase your home's value as well as help it to sell faster than traditional homes due to the spectrum of advantages offered.