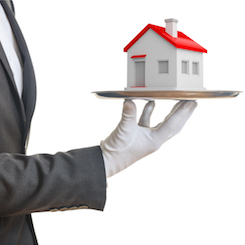 Want to increase the value of your home?  This can be done on the inside or the outside, from do-it-yourself for the smaller projects to hiring a contractor for the larger jobs. You can give your home a facelift a little at a time. Most homeowners don't have the finances for a complete overhaul done all at once. To most people, their home is their largest investment and they would like to keep it in prime condition. Although the price of your home is mostly determined by the current market conditions, there are several things you can do to maximize the value of your home.
1. Decorative moldings can be used throughout the home to trim doors, floors, walls, windows, fireplaces, and ceilings. These moldings can be found at practically all home improvement stores and are fairly easy to install to enhance the look of any room.
2. An updated kitchen is what most potential buyers really want in their new home. Replacing the cabinets and countertops can be done gradually. You may also get creative and improve the old cabinets by painting them and then replacing knobs or handles.
3. Vinyl windows are a great way to increase the value of any house. These windows function better than the old wooden windows by opening for easy cleaning and they conserve more energy in the months when heat or central air will be used the most. They do not require painting and they can really make a house look beautiful.
4. Adding a new roof can make a very strong impression. The roof is the first thing people see and this can play a strong role in how much your house will sell for. A new sturdy roof provides protection from leaks that make ugly stains on the ceilings in your house that can lead to more damage.
5. Installing vinyl siding can add up to $10,000 to the value of your house. If you have fairly decent vinyl siding already, hire a power wash company to clean the siding and give your house a fresh new look.
6. Painting the interior rooms of your home can transform any house with a few coats of paint. You can be as colorful and creative as you like and you can take your time doing so, one room at a time.
7. Flooring absolutely makes the difference in any room. Whether you use linoleum, tile, wood or carpet, a new floor can make all the difference.
8. Adding new appliances such as a refrigerator, stove, dishwasher, washer, and dryer can greatly improve the value of your home. Along with adding a new water heater, furnace, and central air unit.
9. Exterior landscaping can enhance a home's value. Keep your yard well maintained and strategically place flowers and shrubs. Installing or replacing a fence along your property line will also be a great attraction to potential buyers, especially if they have children and pets.
10. Adding a new deck is a great asset to the exterior look of your home. These can be made from a variety of wood and sealed to preserve the natural appearance.
Adding value to your home can be as simple and as affordable as you want it to be. Most improvements can be accomplished a little at a time, all depending on your time and budget. Smaller improvements can be made by simply adding potted plants along the stairs up to your freshly painted front door or by adding a small table or work of art in your foyer.
A visit to the home improvement store or looking through magazines can spark creativity when remodeling your home. Even if you have no idea where to start, one spark can lead to another and another,and then, before you know it, you have created a beautiful home that you may never want to leave!