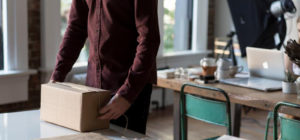 Thinking about selling your first home? Besides the fact that it will take a lot of time and energy, it may be very emotionally challenging. To have buyers come into your home and open closets, cabinets, and drawers, walk through your bedrooms and look behind furniture, and then to criticize the home you have loved is not easy. Eventually, there will be a buyer who wants it and will inevitably offer far less to buy it than you have it listed as.
The first hurdle to overcome after you have made the decision to sell is to let go of your home emotionally. Start looking at it as a positive financial opportunity and distance yourself from all the aspects of the property that you have created memories. It will be hard to pull your heart away from remembering the moments that you painted, decorated and picked out "just the right carpeting" for your child's first bedroom. Acknowledge that selling your home is going to be stressful and emotional upfront and that will enable you to make good decisions going forward.
Think of your home as a product that you are selling. This should help you detach emotionally. Start removing personal items like pictures, knick-knacks, etc. to begin staging which will make it feel less like your home. If you put special hardware on cabinets and can't imagine parting with them, replace them. A good Realtor will give you great recommendations to help make your home more neutral – maybe painting or pulling carpet – all of which will help you to see your home as a product and will help you emotionally.
It's common for a seller to overprice their home when they are emotionally attached. The price of your home needs to be based on the market and the comparable properties, not the value you, someone with memories, puts on the home. After a Realtor helps you with the price, don't get offended by offers that don't meet your calculations. If a buyer makes a low offer, it's good to know that there is someone who loves your home enough to even make an offer. Let your Realtor negotiate and learn what the seller likes and dislikes (which may hurt your feelings) so you are able to keep your emotions out of the selling process.
The Bottom Line: Make sure you are truly ready to sell your home. Make a list of the pros and cons of why you want to move and evaluate. Have an experienced Realtor help you once you have made the decision and realize that sentimental value does not translate to monetary value so you will need help pricing your home accordingly. Keep your emotions in check, make a clean break and put your energy and time into making your new house the home of your dreams!